SACRAMENTO, CA — Prior to Missouri's NCAA Tournament opener, Dennis Gates, Kobe Brown, Tre Gomillion and Nick Honor met with the media on Wednesday morning. Below is a full transcript of what the Tigers had to say.
Q. For each of you, could you think about what the earliest basketball game you've ever played local time has been, if you've ever played at 10:40 a.m. local time? Is there some serious adjustment being ready to play at that time of day?
TRE GOMILLION: I believe all of us growing up playing AAU, we all play 8 a.m. games. That's been our warmup.
This week Gates and the staff have been doing a good job of getting us up early, getting our heart rate going early. So we're going to be ready for tomorrow.
KOBE BROWN: Playing AAU coming up, sometimes you have 8:00 games, then you might have a back-to-back, 8:00, 9:30. Haven't done it in a while, but it's nothing we haven't done before. We should be ready.
NICK HONOR: Most definitely. We came a day or two earlier to get ready to the time zone, everything like that. Basically like they said, early AAU games at 8 a.m. Kind of make you feel like a kid again. We'll be ready.
Q. For all three of you guys, you played in the NCAA tournament before. This may sound kind of stupid. What is the difference in playing in the NCAA tournament and maybe winning in the NCAA tournament?
NICK HONOR: I would say we all were blessed with an opportunity to play here. We all haven't won a game here yet. But, I mean, at the end of the day it's just basketball. So we're excited for the opportunity at hand. We're just going to take it one game at a time, hopefully accomplish that at the end.
KOBE BROWN: I would say playing in the NCAA tournament is a big deal. The biggest collegiate tournament of the year. Like you said, we all made it here one. None of us made it out of the first round. That's our biggest goal, is to survive and advance.
Q. Tre, given your history with Coach Gates, I'm curious sort of in your mind what separates him, what distinguishes him from other coaches you've had throughout your basketball life, and why has he been able to have such immediate impact and success at Missouri?
TRE GOMILLION: I would say the difference between him and other coaches is the relationship he builds off the court. He cares much about his players, more than just the basketball player. He actually wants to be in their wedding, at their wedding, all that, so… I think that's the biggest thing.
For him and his success, I think he builds that bond, like I just said, but he checks all the boxes, the X's and O's, the player development, team bonding. He genuinely cares. Once he gets his guys to genuinely care, once off the court, I feel like on the court takes care of itself.
Q. Kobe, it's sort of related to that. Could you just talk about or describe what took place with Coach Gates as you were getting to know him. I know you considered the portal, but never went in it. What did he get across to you in the first meeting with you?
KOBE BROWN: Definitely. Really just what Tre said. His first words to me was if he's not invited to my wedding by the time it's all said and done and I've moved on from college, then he didn't do his job. I knew then it was more than a business with him. I knew he wanted to build actual relationships. He just cared more than just me putting the basketball in the hoop.
So, yeah, it was just him wanting to build those strong relationships, care more for your personal health than what you can do for him.
Definitely, he opened my eyes big-time. It led to me staying.
Q. Nick and Tre, people tend to make a big deal of the labels of high major, mid-major. You have played at both levels. How important is it for you going into this game? Is it easier because you have so many guys that came from that level to ignore the idea that SEC versus Mountain West?
NICK HONOR: We don't get caught up too much in level when it comes to basketball. Like you say, we've all been here before at those levels. Me being an Atlantic-10, him being in the Horizon. Even though we're at the high major level, we still have the mid-major chip on our shoulder because at the end of the day we're still underrated and slept on around the country.
We don't get caught up in that too much. Utah State is a good team. Should be a good game.
TRE GOMILLION: Most of the guys coming from a mid-major, I feel like we know the chip they have coming into this game. They're a very good team with a very good coach. We can't underestimate them.
We're still picked as the underdog, that's how we like it, we wouldn't want it no different.
Q. Are you fully expecting to play tomorrow?
TRE GOMILLION: Game-time decision (smiling).
Q. Nick, could you just describe what you think it was about the way Coach Gates worked or the way you were received here that made it possible for you guys to mesh the way you have. I realize that's probably a broad thing to describe. It goes back to June. In the personal aspects of it, what has done that?
NICK HONOR: I think just sitting down in his office talking to Coach Gates. After getting to know him for a little while, we change some of the same similar tendencies, our personalities. Just building our relationship with him off the court, him telling me how valuable I am to this team and this program.
It was really everything off the court that led onto on the court. He has confidence in me, faith in me. I can't really ask for a better coach. I'm glad I decided to come here. I'm glad I get to play for him, so…
Q. Kobe, is it possible to describe how Coach Gates sort of re-recruited you in terms of spending time with you? Do you feel that was the key, he was just spending the time with you, not squeezing, not making you feel like you had to react one way or the another?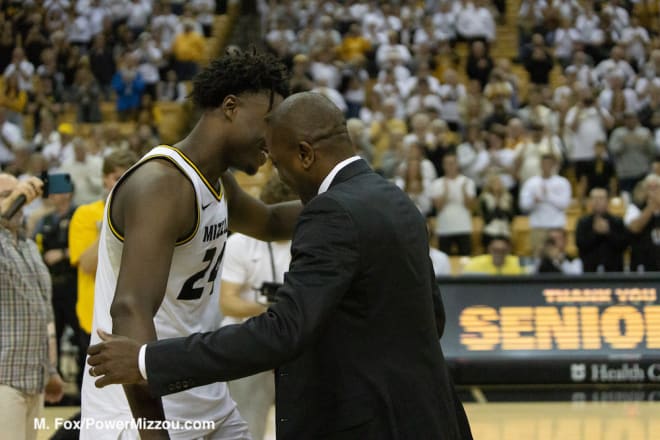 KOBE BROWN: Yes, sir. Definitely. I remember your first question, that meeting we had was right before I went home for break. We had the meeting and whatnot, then I went home for like a week and a half, back in Alabama. He wouldn't overly call me. He kept in touch. Asked how I was doing. He even came to see me a few times at home.
He didn't make it like — he didn't bombard me with attention trying to get me to stay or anything. Even when he talked to me, he wasn't trying to persuade me to stay, he was just having a regular conversation.
Even when we got back, three of us left from last year's team, his staff wasn't even fully there. It was maybe him and Chase, his assistant. I worked out with him a few times for 20 minutes each day. He wasn't trying to let me do the things that I wanted to do so that I would feel comfortable with staying; he was literally just trying to help me progress my game. I got a lot done within that short amount of time.
Q. In looking at them on film, doing your scouting this week, is there anybody you have played this year that kind of plays similarly to what Utah State does?
TRE GOMILLION: I think they have an offensive type of system like Alabama. They want to space the floor with shooters, want you to gamble, overhelp, get fast in transition. Nothing we haven't seen before. A little bit of what we do. We'll be prepared.
Q. Nick, you're a guy who played a lot of different levels of basketball in your career. What is your perspective of the Mountain West Conference and Utah State? Do you see the Mountain West as a major conference or just another mid-major group?
NICK HONOR: I think, in my opinion, they're a little bit above the mid-major group. They have a lot of good teams out there. I personally know Nevada guard Kenan Blackshear. I watched a couple of his games. I know how tough the league is.
Just over the years, catching those games on a late night, you can see how good that league really is. So we're not underestimating them by any means. It's a basketball game at the end of the day and we definitely respect them. The Mountain West has our respect, for sure.
Q. Kobe, as the only guy who played an NCAA tournament game in this uniform, obviously it's been a while since Missouri got to that next round, do you have a sense of what this would mean to your fans and your program to come here and win a game? On a broader scale, can you talk about the way this fan base has embraced you guys this year.
KOBE BROWN: Definitely, yeah. They took our new team and Coach Gates with open arms. Surviving in this tournament would be so big for them. For us, too.
We've accomplished so much this season. To see, like, the difference in Columbia right now is crazy. The fans are great, they show up to every game, weekend or weekday. I still get DMs talking about, You guys made history, you made us so proud that you made it to the conference semifinal, all types of things like that. 20-plus wins.
That means so much to them, we really want to go out here and get this win for them.
Q. Again, kind of like I asked the guys, it may sound like a dumb question, but how big is the difference between playing in the NCAA tournament and being a winner in the NCAA tournament?
DENNIS GATES: Well, it's a prestigious tournament. I truly believe the history speaks for itself. Sometimes we get locked into the seedings and different things like that. All teams that's invited are really, really good teams. Great coaches. There's a tradition in it. There's a want to advance in it. It's very important to each team. Everyone's preparing, as we saw games last night, and will see more games today. They're possession-by-possession games.
We just hope all of our conference games, all of our pre-season scheduling, has prepared us for the moment. I know our players, our staffs, they're all going to work hard, work their very best to be prepared. That's what we're going to continue to do, and that's what we've done in the past.
Q. Could you just look back at your approach to Kobe and Kaleb and the family when you took the job, how you tried to instill the idea of coming back but also having sort of a gentle touch. Kobe made a point you didn't push, you just were there.
DENNIS GATES: That's a great question. I think it's important to also add the entire roster. Transition isn't easy for anyone. You have teammates. You have brothers in your program, guys that are in the portal, guys that are not in the portal, guys that are on the lines of entering or not.
But you have a group of guys that are welcoming you into their space. I was invited into their space. That's what the conscious mind of myself has to remember. I ultimately wanted to get the feedback from those around, the support staff, different people, but also the different teammates, the different managers, the custodians, the people of service, right? I think they have a very good idea of these young people as they see them in passing every day.
We cannot overlook it being just Kobe or Kaleb. They have friends and teammates. Those friends and teammates were in the portal, and some didn't return. Ronnie DeGray did return. Those are important fixtures in our program. But those conversations were definitely met with delicate gloves. I wanted to be in full transparency, let them know who I was, but also separate the two.
We didn't use the word 'brother' in our program. Kaleb Brown, Kobe Brown, two different people. But ultimately I wanted to get in front of Mom and Dad. They did a great job raising 'em. I just wanted to be able to let them know my vision, but also my plan.
Q. Obviously a priority is your team here. You have history in Northern California. Any personal significance being back here? How did your time at Cal maybe shape who you are now?
DENNIS GATES: As a kid growing up in Chicago, leaving on a journey to become a student-athlete, living a dream, I first thank Ben Braun for giving me a scholarship to Cal Berkeley, a place that I love, a place that was great for me at the age of 18, a place that helped shape me, a place that allowed me to see the world.
I've used basketball as a compass in my life. Coaches and educators played an important role. It is the reason why I coach today simply because I knew how important those people were and are in my life. There's not one coach I don't talk to. I talk to Ben Braun still to this day. Spoke to him this morning. Actually invited him out to come to a game. I have several teammates, roommates, college roommates, to live here in Sacramento.
But it's important to understand the development of me as a young man coming from Chicago, and what Cal Berkeley was able to do for me, but also the people I met along the way and how influential they were to my development.
I really thank them for what they've been able to do because whenever you're sharing your time and your talents with other people, especially strangers, helping them develop in life, you are doing something of service. I'm thankful of that.
The significant part is being able to graduate, undergrad, in three years, being able to start my master's degree, being able to be the Student-Athlete of the Year in the Pac-12 or Pac-10 at that time was all essential things. I've developed some unbelievable bonds, unbelievable friendships, but also some great memories from my time at Cal Berkeley.
Q. You have experience against Utah State as an assistant at Nevada. Can you reflect on that? Give us a little bit of a read of what you see of Utah State's team.
DENNIS GATES: Yeah, great tradition. The great Stu Morrill was the head coach at that time. We were able to play both in Utah but as well as at home. Great tradition, great program. Some great players.
What I do know is a great fan base, great culture. It speaks for where they are today. Coach Odom has done a great job, but also you have to look at what this program has done in the last five years, and it's been post-season play. They've earned the right to play at this level, but also their tradition speaks for where they are.
I'm thankful to be invited, and I know Utah State is thankful to be invited, as well. They're two great programs. Mizzou has great tradition. Ultimately what I do remember is how good of a basketball fan base they are. It's been tremendous through the years to see the program continue to grow, although the coaches have changed.
Q. Along the lines of tradition and fan bases, when you take a new job, some coaches take the path of what happened before here is in the past. You've really leaned into the tradition, trying to reconnect to Missouri's past. Was that a conscious decision? Do you think that has played any part in the way this fan base has embraced you and this team?
DENNIS GATES: Well, when you say 'conscious', conscious is intentional. Respect is instinctual. I've respected everything I've done in my life. I've respected those that have come before me, no matter what age I was in, where I'm at, whatever endeavor I'm pursuing.
I think when you respect things properly, you instinctually know there's some shoulders you stand on. Norm Stewart is a shoulder and a friendship that I have been enlightened by and definitely fortunate to have. He has a great personality. He's a jokester at times. He's witty, quick on his feet, sharp as a tack. He gives you unbelievable advice.
The same with Quin Snyder. Quin has been a great resource for me. I've had several conversations with him. Even in that transition of him being out of coaching, then getting back in the NBA with the Atlanta Hawks, he's set aside time to reach out, and I thank him for that.
Ultimately even Mike Anderson, even Frank Haith, even Kim Anderson, Cuonzo Martin, those guys have been tremendous resources for me along the way. I'm thankful that they've allowed a relationship to form.
We're all in a profession that has transition written all over it. You don't have always a script. I'm thankful that the script of me calling them and thanking them and partnering with them, so to speak, saying simply, Thanks for allowing me to walk on the same sidelines as you once did.
To be a great coach, you have to be absent from your home, you have to sacrifice things. Those guys have definitely sacrificed a lot for Mizzou and the tradition that they've built. I'm thankful for those relationships.
Q. Everybody who has ever met Norm has a Norm story. Do you have one you can share with us?
DENNIS GATES: I don't have one (laughter). I don't have one. I'm thankful for our relationship that I have with them. The former players, also, I would be remiss if I didn't acknowledge their welcoming because they have definitely been a part of the tradition.
Our fan base, they are the tradition that never leaves, right? They are the tradition that are ingrained in the seats every single day. They make the sacrifices. They continue to donate to our Tiger scholarship fund. They continue to give their time, their talents, their treasures to make sure our institution runs a certain way.
I put out a challenge at the very beginning of the year that I want to see the place sold out. I want to see it sold out well before a Kansas game. They showed up and supported these young people. I think that momentum allowed us to consistently give a level of effort but also a level of comfort in our home by representing what I thought was a great style that our fans were proud of. Whether they were near, whether they were far, whether they were in different countries, our logo has traveled and our fan base has done a great job of rallying around the success of our team, but also being there to support us.
Q. When I asked Tre who Utah State reminded him of, he said the offensive system is a little bit like Alabama. Is there anybody else you played that they remind you of?
DENNIS GATES: Yeah, you can look across the grid. I think when you look at Penn, look at the Penn game, those are teams that really spread you out, teams that have consistently lived in different areas of transition, but also the three-point line. Their personnel is very, very unique.
Coach Odom has done a great job even before he got to Utah State, and obviously his DNA of his dad speaks for itself. He grew up in the gym. His IQ is very high when it comes down to building a program and building a team. He's done a good job. He's done a good job at Utah State.
He was a perfect and is a perfect fit for Utah State and what is needed successfully.
As it relates to the statistics, I think they have some individual players that make the plays that need to be made. You can go across the board. They have five players in double-digits. That's not an easy stat line to consistently have throughout the year. They've been able to demonstrate that.
They've had different players earn whether it's Sixth Man of the Year, First Team All-Conference, they're a team that has had camaraderie when it comes down to returning and retention from the NIT team last season. You have those dynamics in place, but also they come from a great conference.
I've been on this West Coast in the Pac-10, I've been in the WAC, I've been at Nevada. I've seen different versions of the Mountain West teams come and go, but also I've seen teams make the transition into the Mountain West. They're one that have made a tremendous, tremendous stride once they got the invite to be in that conference to consistently be successful in the sport of basketball specifically.
So ultimately, man, I'm thankful to be here. We have nothing but respect for our opponent. We will always do those things. May the best team win. They'll have a scouting report, we'll have a scouting report. It will be a great environment that both institutions are excited to represent their school, their conference, and also build memories for young people.
Stay up to date on all the Mizzou news with your premium subscription
Talk about this story and more in The Tigers' Lair
Make sure you're caught up on all the Tiger news and headlines
Subscribe to our YouTube Channel for video and live streaming coverage
Everyone on here already has insurance (or they should). Everyone on here also cheers for the Tigers (or they should). In college sports the hot button issue is NIL. A school can no longer compete the way they did just a few short years ago without a robust NIL collective. In our economy, the hot button issue is inflation. Here's your opportunity to see about saving money on something that the state requires you to have on your car and your lender requires you to have on your house. Oh and by the way, just a quote from James's office will get a donation on your behalf to PowerMizzou's fund with Every True Tiger Foundation, Mizzou's preferred NIL collective. Blink if you like saving money. Blink twice if you want to do everything you can to position your favorite college program to be as competitive in the SEC as possible. Give James's office a call at 314-961-4800 or get a quote online at carltoninsurance.net.
"If your insurance costs a leg and an arm, call James Carlton State Farm."



Read the full article here