SACRAMENTO, CA—Of course this Missouri team won this game. Why wouldn't it? The opponent, for the record books, was Utah State. The score that will be recorded on the Wikipedia page for the 2023 NCAA Tournament is 76-65. But the remarkable part about Missouri's first NCAA Tournament win in 13 years is that nothing was remarkable about about it at all. Because Missouri has won this game again and again this season.
With 10:46 to go, the Tigers trailed the 10th-seeded Aggies 49-47. Mizzou's biggest lead had been six and its biggest deficit had been two. The Tigers couldn't distance themselves from Utah State, but they also never trailed by more than a possession.
As Missouri fans bit their nails and paced their living rooms and once again doubted this team and talked about putting on their protective gear and getting Mizzou'd again, the Tigers just did what they've done all year. They went out and won the game.
Kobe Brown went on a personal 12-4 run. D'Moi Hodge scored the next eight. Sean East made a bucket. Nick Honor drilled a three. Everybody got a steal or a rebound or drew a foul. Missouri outscored the Aggies 29-12 over the next 9:36 and spent the last 70 seconds celebrating their first NCAA Tournament win since Dennis Gates was a 30-year-old assistant at Nevada and Brown was ten years old and Aidan Shaw was getting ready to start kindergarten the following fall.
"It's the freedom, the confidence and the belief that we have in each other," DeAndre Gholston said. "It's not always your night. That's what we preach around the team. Kobe and D'Moi had a big time outing tonight. We needed it. They're big time players. But this team, we all came from somewhere that we needed to score so we have the ability to do that every time."
In one way or another, they all contributed. And this team full of afterthoughts cobbled together from across the country (and beyond) won another game that was far from secure in the closing minutes.
"We don't blink when things get rough," Brown said, after a career-defining performance.
GET THE INSIDE SCOOP EVERY DAY WITH YOUR PREMIUM SUBSCRIPTION!
They all contributed. Every one. At some point during Missouri's explosion, Tre Gomillion rose from the bench. He was still in his full warmups. He hadn't taken them off. In and out of the lineup over recent weeks with a groin injury, Gomillion did everything he could to play. He couldn't.
"I had to have a real conversation with him in the locker room," Dennis Gates said. "I said, If you're not playing, I need you involved, as involved as my staff members.
"He's coach Gomillion to you."
Gomillion walked about 15 feet to Gates. He leaned over to talk to his coach.
"I think it might have been a call or a play that he didn't agree with," Gomillion said after the game. "I was just calming him down to keep that confidence in guys for real. That was about it."
If he couldn't play, he would do what he could.
"It's tough," he said in the locker room. "But that's the cards I was dealt so I just got to deal with it and give what I can."
They all did. Because that's what they've done all year.
We do not know what the future holds for Missouri basketball. The present has exceeded everyone's dreams and expectations; at least those outside the locker room. And that would have been true even if the final ten minutes hadn't gone Missouri's way. Nobody would have been ashamed of a 24-10 regular season that put Mizzou back in the national conversation and the national rankings and the national tournament. Nobody. It would have been fantastic, especially coming off a 12-21 season and a coaching change.
But nobody told this team that was enough. On Thursday morning—or early afternoon by the time it was over—this group of Tigers entrenched itself in the memories of its fans forever. Is it the best team Missouri has ever had? Almost certainly not. Will it make the deepest run a Tiger team has ever made? While I wouldn't advise anyone betting against it, they're a couple more wins from that. But on Saturday, this team made sure that nobody who has followed this program from national prominence to the depths of the last few years and now back on the ascent will ever forget it.
This team has captured the hearts of an entire fanbase. And, sure, of course it's the 25 wins and the second round appearance (by the way, they're going to be favored over 15 seed Princeton which upset Arizona a couple hours later on the same court). Of course it is. But it's how they've gotten here. It's that they've done it with a coach that many weren't sold on and a group of players most had never heard of. It's that they've beaten a bunch of really good teams and never stumbled against any of the rest. It's that they've brought back pride and hope and fun to a program that hasn't seen much of it for the last ten years and hasn't sustained what little there has been.
This team? This one's etched a place in your hearts and your memories.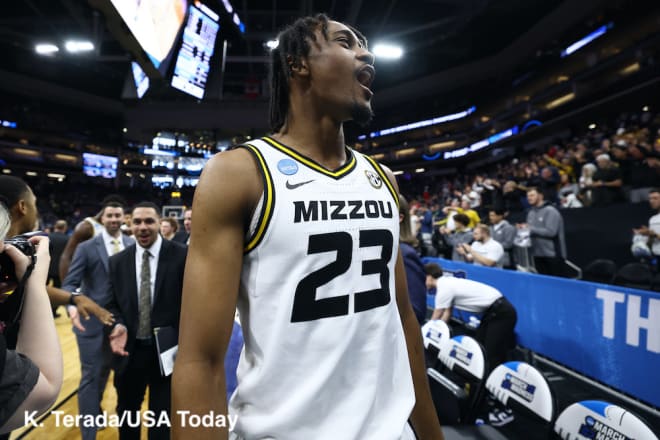 "It's emotional for me. I actually cried," Gates said. "My college coach, some of my teammates were here. My family's here. For me, it was emotional."
"It's incredible," Gholston said. "It's something I can't even put into words. This is a historic program, just to bring something to it, nothing I can even dream of."
There was little connection for any of these players to Missouri before last March. Gates got the job and brought most of them in. Kobe Brown had already been here for three years. Ronnie DeGray and Kaleb Brown one each. Other than that? The closest thing to a True Son on this team is Aidan Shaw, whose parents both went to Mizzou. Shaw signed with Cuonzo Martin, stayed on board with Gates and played ten key minutes in Thursday's win.
"I've always been around it," Shaw said. "Finally being a part of it, the fans and all the support we get, it's great. I feel like a part of a big family including my teammates. I love it."
That tournament losing streak? The 13 years? The 4,746 days? That's over. It's dead and buried.
"The days is zero now," Shaw said.
Indeed. It's another day in a season that will be forever written in Missouri history. But it's not the last day.
"We always say 24 hours," Kaleb Brown said when asked how long the team would celebrate. "But I don't think we have that 24 hour turnaround this time."
The next item on the list for a team that just keeps checking them off?
Gholston: "Get another one."
Stay up to date on all the Mizzou news with your premium subscription
Talk about this story and more in The Tigers' Lair
Make sure you're caught up on all the Tiger news and headlines
Subscribe to our YouTube Channel for video and live streaming coverage
Everyone on here already has insurance (or they should). Everyone on here also cheers for the Tigers (or they should). In college sports the hot button issue is NIL. A school can no longer compete the way they did just a few short years ago without a robust NIL collective. In our economy, the hot button issue is inflation. Here's your opportunity to see about saving money on something that the state requires you to have on your car and your lender requires you to have on your house. Oh and by the way, just a quote from James's office will get a donation on your behalf to PowerMizzou's fund with Every True Tiger Foundation, Mizzou's preferred NIL collective. Blink if you like saving money. Blink twice if you want to do everything you can to position your favorite college program to be as competitive in the SEC as possible. Give James's office a call at 314-961-4800 or get a quote online at carltoninsurance.net.
"If your insurance costs a leg and an arm, call James Carlton State Farm."



Read the full article here