Ahead of next week's Super Bowl, Pat Mahomes, the father of three-time All-Pro Patrick Mahomes, recalled how his son's baseball training during his childhood helped mold him into one of today's top quarterbacks.
Mahomes Sr. made his MLB debut with the Minnesota Twins in 1992. A few years later, he spent time at Shea Stadium pitching for the Mets around the time Patrick was 4 years old. 
"I just remember him being so excited to go to the yard every day," Pat Mahomes Sr. said in an interview with the New York Post. "I'd have to hold him back just so I could get in the car before we left because he was ready to get out there."
He also remembered how Patrick would put on a Mets' uniform and play catch at the stadium.
"And he'd get there to the clubhouse, get his uniform on and he'd be one of the first guys out on the field. And, of course, I had to play catch and all that."
Now in his sixth season in the NFL, Patrick Mahomes is widely viewed as one of the best quarterbacks in the league. But the elder Mahomes took notice of his son's impressive athletic talents when he was on the baseball diamond.
PATRICK MAHOMES' CLASSY MESSAGE TO JOE BURROW AFTER CHIEFS' AFC CHAMPIONSHIP WIN REVEALED
"His first practice he was playing shortstop. He threw the ball across the diamond and hit the first baseman right between the eyes, broke his glasses." Mahomes Sr. recalled, "So they told him to start throwing the ball three-quarters of the way, and then it rolled there. But I wouldn't let him do that. So, I told 'em just to move him to first base. So, he became a big fan of all first basemen."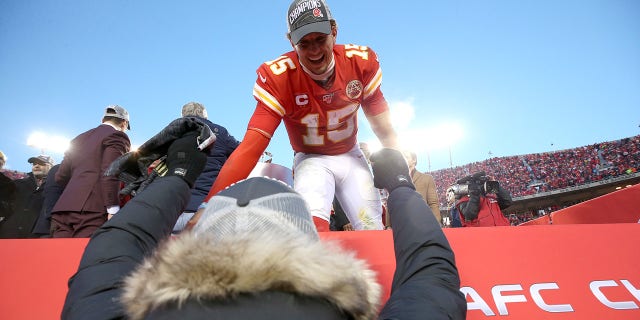 Mahomes Sr. had a solid season for the Mets' bullpen in the 1999 season, finishing the year with an 8-0 record and a 3.86 ERA. Mahomes II eventually developed a routine on game day whenever he would go to the ballpark.
"He would watch the first couple of innings of the game, and then he would go to the nursery where all the kids were. And they'd watch the game down there and play games and do different stuff," Pat Mahomes said. "And then, if I went into the game, he'd come out and watch me pitch."
PATRICK MAHOMES' FATHER SAYS SON 'WHOLEHEARTEDLY THOUGHT' BEARS WOULD DRAFT HIM
The highlight of Pat Mahomes Sr.'s big league baseball career happened Oct. 19, 1999, in a National League Championship Series matchup against the Atlanta Braves. 
Mahomes Sr. relieved starting pitcher Al Leiter in the first inning and threw four innings, giving up one hit. The Mets lost to the Braves in 11 innings.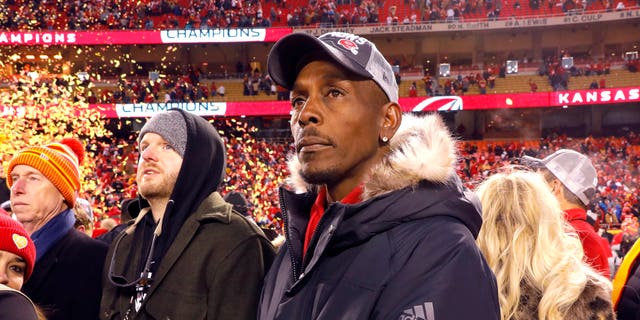 Mahomes Sr. said football was not his sport of choice and decided against playing quarterback at the college level. 
"I don't like contact, so that was never an option for me," he said.
Mahomes II was the No. 10 pick in the 2017 NFL Draft out of Texas Tech. But he also spent time as a relief pitcher with the Texas Tech baseball team.
The elder Mahomes will now get to see his son play in a third Super Bowl next week. 
He expressed pride about his son's accomplishments after the Chiefs won the AFC title. 
"My baby boy did what he always do. You know he's gonna show up and show out, and I'm just glad he did it," the proud father said.
Read the full article here