Kyrie Irving sat in front of reporters as part of the Dallas Mavericks for the first time, and it came with some shots at the Brooklyn Nets, who fulfilled his trade request Sunday. 
Irving requested a trade after reportedly failing to agree on a contract extension, saying he would become a free agent if he wasn't dealt to another team by the deadline. 
The Nets moved on, finding the Mavericks' offer the right one for them. The Nets received Spencer Dinwiddie, Dorian-Finney Smith and draft picks in the deal. 
Reflecting on his time in Brooklyn, a tumultuous marriage over the past four years, Irving said he felt "disrespected" by the Nets. 
"Being in this seat today, I just know I want to be in places where I'm celebrated and not just tolerated or just kinda dealt with in a way that doesn't make me feel respected," he said. 
"There were times throughout this process when I was in Brooklyn where I felt very disrespected and my talent — I work extremely hard at what I do. No one talks about my work ethic, though. Everyone talks about what I'm doing off the floor. I just want to change that narrative, write my own story and prepare in the gym. Now that I'm in Dallas, just focus on what I can control — like I said — and I'm always going to be close with those guys in Brooklyn."
When asked further about why he felt this way, Irving wasn't willing to go into detail. 
KYRIE IRVING EXPLAINS WHY APOLOGY FOR POSTING ANTISEMITIC MOVIE LINK WAS DELETED
"I'm not the person to really speak on names and go to someone behind their back and try to leak stuff to the media. That's never been me," he explained. "I've been an audience member of people saying things about me that ultimately fall off my shoulder. Really in a place that I'm grateful that I got to grow into the last year and a half, two years, spending time away from the basketball court. Getting time to really appreciate life in a new way.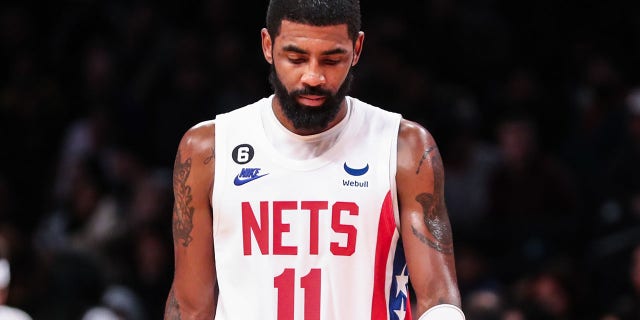 "I just know I need healthy boundaries, especially in this entertainment business. There's a lot of disrespect that goes on with people's families, with their names. I'm just not with it. It's nothing personal against any of those guys in the front office. It's just what I'm willing to accept, and I took a chance and luckily and fortunately the Dallas Mavericks picked me up."
Irving's tenure in Brooklyn included his eight-game suspension this season after posting a link to a movie with antisemitic disinformation, which he wasn't initially apologetic about.
NETS PLAN ON KEEPING KEVIN DURANT DESPITE TRADING AWAY KYRIE IRVING: REPORT
There was also his refusal to get the COVID-19 vaccine, leading to his inability to play home games. Irving played just 29 regular-season games last year after the Nets allowed him to come back on a part-time basis.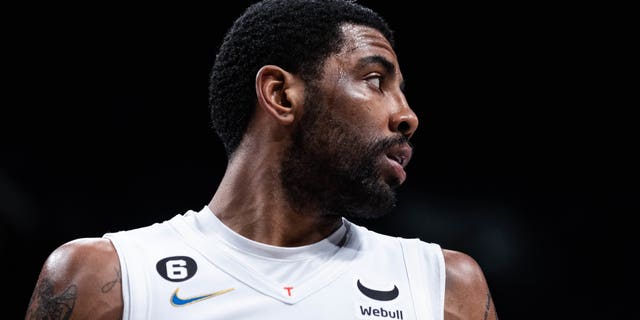 This also wasn't the first time Irving requested a trade out of Brooklyn, though owner Joe Tsai made sure it wasn't entirely on his terms. Irving's reported preferred destination was the Los Angeles Lakers to team up with LeBron James again. However, Tsai reportedly made it a point not to deal him to LA. 
Irving earned himself an All-Star bid this season prior to the deal, averaging 27.1 points, 5.1 rebounds and 5.3 assists over 40 games with the Nets. Irving averaged 27.1 points over 143 regular-season games with the Nets.
Read the full article here