LeBron James says he is quickly shifting his focus to the Los Angeles Lakers instead of the trade deadline after Kyrie Irving, his former teammate who he won a championship with in 2016, was dealt to the Dallas Mavericks by the Brooklyn Nets. 
But he can't lie either. 
"Oh, definitely disappointed," he told ESPN's Michael Wilbon during an interview following the blockbuster trade that ended a tumultuous tenure with Brooklyn over the last four seasons. "I can't sit here and say I'm not disappointed of not being about to land such a talent. Someone that I had great chemistry with and know I have great chemistry with on the floor that can help you win championships, in my mind. But my focus has shifted now. My focus has shifted back to where it should be and that's this club now and what we have in the locker room."
The Lakers were rumored to be the frontrunners to land Irving, reuniting him with James to potentially recapture that magic they had with the Cleveland Cavaliers when the kid from Akron returned home, which led to the franchise's only title. Los Angeles is looking for an All-Star they could add to the starting lineup, as James & Co. certainly don't want to miss the playoffs for the second straight season. 
However, James isn't worried about what his team does at the deadline now (at least not publicly). He believes the Lakers do have what it takes to get into the playoffs, and even make a run if they remain in good health. 
LEBRON JAMES FIRES OFF 3-WORD TWEET AFTER NETS REPORTEDLY TRADE KYRIE IRVING TO MAVERICKS INSTEAD OF LAKERS
"I don't get too excited about the possibilities of things that can be," James explained after Wilbon was shocked he moved on so quickly. "I kinda envision myself on what it can [be], but I don't invest all the way in until I know what's happening. When it does not happen, I'm back locked in on the job at hand. We had an opportunity. Our name was out there, the Lakers' name was out there. We had an opportunity, it didn't happen and we finish this season strong. Try to get a bid into the postseason where I feel we go in healthy, we can compete with anybody."
The Lakers were reportedly Irving's preferred destination, but another report stated that one of Nets owner Joe Tsai's "presumed objectives" was to not fulfill that request for the polarizing point guard. So trading with the Lakers, unless blown away by the package, wasn't in the cards.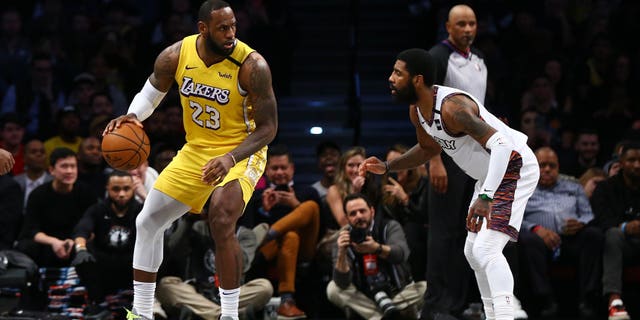 Instead, he and GM Sean Marks signed off on a deal that involved Spencer Dinwiddie, Dorian Finney-Smith, a future first-round pick and two second-rounders. Brooklyn was reported on Monday to also be looking for a potential third team to trade with. 
Los Angeles reportedly did, however, send an offer in to Brooklyn for evaluation. Russell Westbrook teaming up with Kevin Durant again was the headline of the package that also include first round picks in 2027 and 2029. 
KYRIE IRVING HAS ONE FINAL MESSAGE FOR NETS FANS AMID TRADE REPORTS
But the Nets countered, allegedly asking for younger players, such as Austin Reaves and Max Christie, and further pick swaps, per The Athletic. 
And if a deal were to be done, the Lakers wanted a guarantee that Irving would sign a two-year extension, given his contract expires at the end of the year. 
The Phoenix Suns were also potential suitors, offering perennial All-Star Chris Paul and Jae Crowder along with draft picks, per Bleacher Report.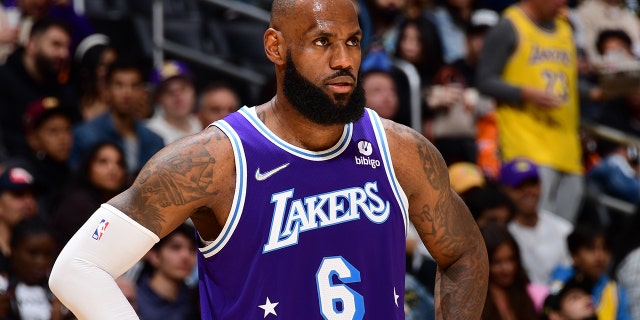 Either way, Irving begins his new journey with Luka Doncic and the Mavs, while James will have to see them two more times this regular season, the soonest on Feb. 26. 
Read the full article here