A mannequin wearing a jersey of a Black Real Madrid player was found hanging from a bridge in Spain, and police are investigating the incident as a potential hate crime.
The mannequin was wearing Vinicius Jr.'s jersey underneath a sign that read "MADRID ODIA AL REAL," which translated to "Madrid hates Real."
The incident is believed to have been perpetuated by fans of Atletico Madrid fans before the rivals' match on Thursday. The bridge is located near Real Madrid's training facility.
"We strongly condemn acts of hate against Vinicius Jr. Intolerance and violence do not fit in football," La Liga said in a statement. "As on previous occasions, La Liga will urge the investigation of the facts in search of the conviction of those responsible, requesting the most severe criminal sanctions."
STEVE WILKS' LAWYERS SAYS THERE IS 'LEGITIMATE RACE PROBLEM' IN NFL AFTER PANTHERS HIRE FRANK REICH OVER HIM
The Atletico Madrid club itself condemned the incident and denied any involvement.
"Such acts are absolutely repugnant and inadmissible and shame society," the team said in a statement. "Our condemnation of any act that attacks the dignity of persons or institutions is categorical and unreserved."
"The rivalry between the two clubs is the greatest, but so is respect. No individual, whatever their intentions or colours (sic), can tarnish the coexistence between different supporters. It is everyone's responsibility to avoid this."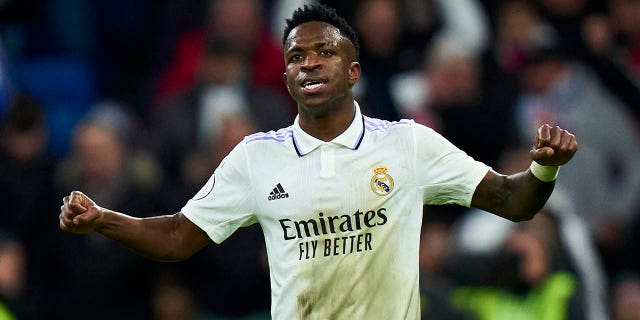 Back in September, a Spanish agent said Vinicius Jr. should "stop playing the monkey" when celebrating goals – Atletico fans also called him a monkey. This came shortly before one of his Brazilian teammates had a banana thrown at him while celebrating a goal.
Real Madrid defeated Atletico Madrid, 3-1, as Vinicius Junior scored a goal in extra time. He also dished out an assist, knocking Atletico Madrid out of the Copa del Rey tournament in Spain.
Read the full article here