U.S. Women's National Soccer team legend Carli Lloyd continues to challenge herself off the field, even after becoming a two-time Olympic gold medalist and two-time World Cup champion. 
The retired soccer star joined "One Nation with Brian Kilmeade" to discuss what might be her toughest challenge yet, featuring in "Special Forces: World's Toughest Test."
"It was an amazing 17-year journey that I had playing professional soccer and getting to represent my country. Some fond, fond memories, but I'm enjoying retirement life," Lloyd said. "I didn't think retirement life would be this with this opportunity to partake in a 10-day course, Special Ops course."
US SOCCER STAR CARLI LLOYD RECEIVING BACKLASH FOR STANDING DURING NATIONAL ANTHEM
"Now, you don't last those 10 days, so you either medically withdraw, voluntarily withdraw or you make it all the way to the end. So we're halfway through. Everybody's got to keep watching to find out how I'll do."
FOX's show pits 16 celebrity "recruits" against one another in a series of real military training, testing their mental and physical strength along the way.
Lloyd said the show has been "an amazing experience" and has given her a "very, very small taste" of what the men and women who serve in the military go through in their Special Operations' selection process. 
The show is all raw — unscripted, she said. 
"We did one interview before the show started filming. It was about four to five hours. We all sat down. We were interviewed. We talked about our fears. We talked about our demons, things that we're afraid of, and that was it."
Other celebrity "recruits" include: Two-time Super Bowl champion Danny Amendola, Olympic gold medalist Nastia Liukin, former White House communications director Anthony Scaramucci and Jamie Lynn Spears, among others.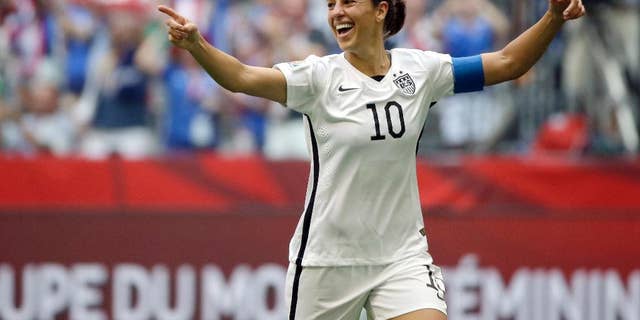 US FORWARD CARLI LLOYD RETIRING AFTER DECORATED CAREER
Lloyd highlighted her bond with her "Special Forces" cast mates and how it's distinct from the bond she shares with her teammates on the USWNT.
"I mean, I've said it before, no discredit to my teammates and the championships that I was a part of with some of my teammates, but I've never felt closer with a group of strangers than this group, than 15 other recruits that I had never met before… You've got all these stars, but it was an experience where we were all suffering, and we all had to lean on one another."
She continued: "Yes, there was some drama and some confrontations, but everything that we said to one another really got hashed out inside the tent, and we all bonded for life."
Host Brian Kilmeade asked Lloyd if she wins in the end, but she avoided "giving any spoilers." 
She said viewers will have to keep tuning in to see how she does. 
Read the full article here