An altercation between associates of Memphis Grizzlies All-Star Ja Morant and the Indiana Pacers resulted in an NBA investigation following their Jan. 29 matchup at FedEx Forum. 
The Pacers claimed that a red laser was pointed at them from an SUV that was carrying Morant, which the team believed was a gun, according to The Athletic.
However, after their investigation, the NBA did not find "any individual threatened others with a weapon."
"NBA Security and league investigators conducted an investigation interviewing numerous eyewitnesses and reviewing video surveillance following allegations made by the Indiana Pacers organization regarding a postgame incident on Jan. 29," a statement from the NBA read, via CBS Sports. 
"While we substantiated that a postgame situation arose that was confrontational, based on interviews and other evidence gathered, we could not corroborate that any individual threatened others with a weapon. Certain individuals involved in the postgame situation and a related matter during the game that night have been subsequently banned from attending games in the arena. If additional information becomes available related to the postgame situation, the league office will conduct a further review."
This situation has a backstory. 
During the game, a scuffle ensued between the Grizzlies and Pacers, where Morant's father, Tee, and his close friend, Davonte Pack, were involved from their courtside seats. Video appeared to show both standing up and Pack walking toward the scrum before being stopped. 
NBA SUSPENDS GRIZZLIES' DILLON BROOKS ONE GAME, FINES CAVALIERS' DONOVAN MITCHELL FOR BRAWL
Morant seemed to indicate that Pack was banned from FedEx Forum for a year. 
"Did a investigation seen they were cappin," Morant wrote on Twitter. "Still let a article come out to paint this negative image of me & my fam. & banned my brother from home games for a year. Unbelievable."
When asked post-game what occurred to make the scuffle happen, Morant said that it was started by Pacers guard Andrew Nembhard, who told his father to "shut up."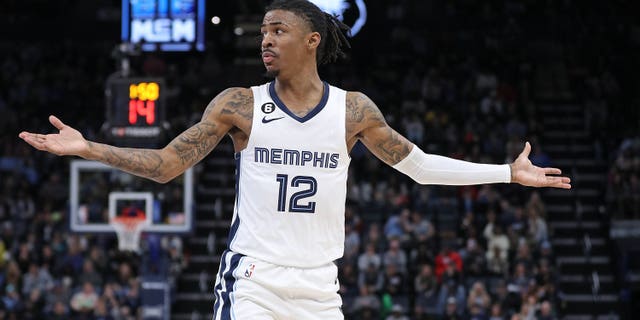 "I checked his temperature. He didn't have a fever," Morant said to reporters. 
After the game, two parked SUVs were by the Pacers' traveling party and a few associates of Morant, including Pack, got out to begin shouting at them. The Athletic says it occurred between 15-20 minutes before being broken up by security personnel. 
MEMPHIS GRIZZLIES COACH SAYS 'SENSELESS' DEATH OF TYRE NICHOLS HAS 'REALLY HIT US HARD'
Morant would eventually get into one of the SUVs, and as it pulled away, members of the Pacers' party said they noticed the red laser. One member of the security staff believed it was "100 percent a gun."
Head coach Taylor Jenkins addressed the situation prior to the Grizzlies' 106-103 loss to the Toronto Raptors on Sunday.
"That was addressed internally. Aware the NBA did a full-on investigation. We were fully compliant with it," he said briefly.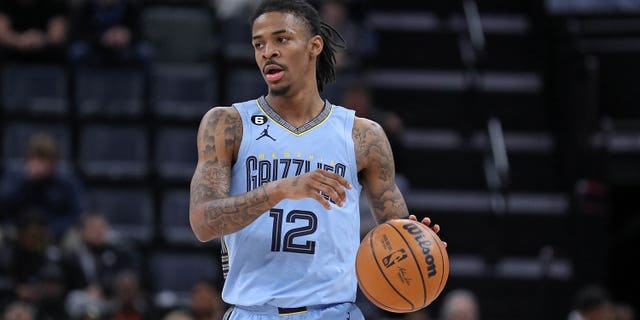 Morant, who was named an All-Star for the second straight season, had an impressive triple-double in the win over Indiana, dropping 27 points with 15 assists and 10 rebounds. 


Read the full article here