A Europa League game between the Netherlands' PSV and Spain's Sevilla FC turned into a boxing match Thursday night. 
A spectator ran onto the field during the match and approached Sevilla FC goalkeeper Marko Dmitrović, and it didn't end wwell. 
The fan landed a punch at Dmitrović before the goalie decided to return the favor. 
Dmitrović's punch dumped the fan into the grass before security and players began swarming. 
The fan attempted to break free from Dmitrović, but the goalie wouldn't let him go before security arrived and forced the fan off the pitch. 
FAN PUNCHES COLOMBIAN SOCCER STAR ON FIELD; PLAYERS RETALIATION LEADS TO RED CARD
It wasn't the first time a fan has hopped the barriers to reach a player. At times, it is rabid fans who just want to have a moment with their favorite players. Dmitrović's interaction with this fan isn't an isolated incident. 
Daniel Cataño of Columbia's Millonarios in Categoria Primera A had a fan rush the field to strike him earlier this month. Cataño wasn't looking when the fan hit him from behind. Like Dmitrović, he defended himself.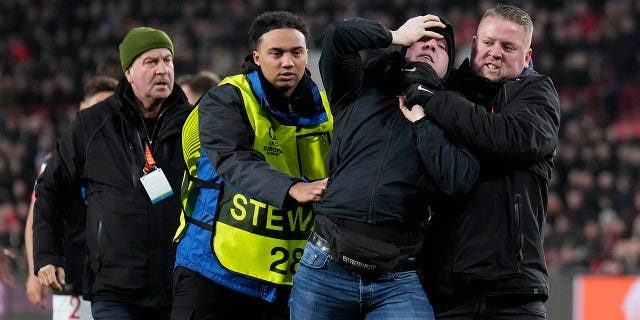 Cataño rushed after the fan, who sprinted in the opposite direction after the attack. Cataño took the fan to the ground until players and security joined in to separate them. 
LIVERPOOL, REAL MADRID GOALIES MAKE VIRAL BLUNDERS IN WILD CHAMPIONS LEAGUE MATCH
Referees in the match between Millonarios and Deportes Tolima gave Cataño a red card, which disqualified him from the game. Millonarios boycotted the game, creating further controversy. 
Dmitrović continued to play in his match, which PSV won after Luuk de Jong and Fabio Silva scored in the second half for a 2-0 victory. Sevilla FC moves on to the round of 16 with a 3-2 aggregate lead.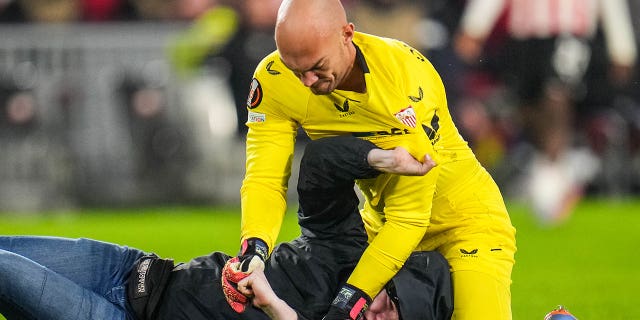 The round of 16 draw will take place Feb. 24.
Read the full article here