It was a rough day for goalkeepers on both sides of the highly anticipated Champions League matchup between Liverpool and Real Madrid on Tuesday night at Anfield Stadium. 
Thibaut Courtois of Real Madrid was the first keeper to make a horrible mistake in this one. 
Liverpool got off to a quick start on their home turf, as Darwin Nunez scored in the fourth minute of the match to take the early lead. 
Just 10 minutes later, Real Madrid worked the ball back to Courtois, who used his chest to control it. However, there wasn't much control over that. 
Courtois had the ball bounce off his knee, and Liverpool star forward Mohamed Salah was right there to kick it to the back of the net to make it 2-0. 
CHRISTIAN ATSU, GHANA SOCCER STAR, FOUND DEAD UNDER RUBBLE FROM TURKEY EARTHQUAKE
Courtois couldn't believe what just happened, and the Real Madrid fans in the stands shared his look of disbelief as Liverpool fans celebrated. 
But Real Madrid didn't put their head down after the shaky start. Vini Jr. cut the lead in half when he found the back of the net with a perfectly-placed shot off his right boot at the 21st minute that found the right side of the net past Liverpool keeper Alisson Becker. 
Then, before the first half finished, Becker made a vital blunder that ultimately led to a Real Madrid run.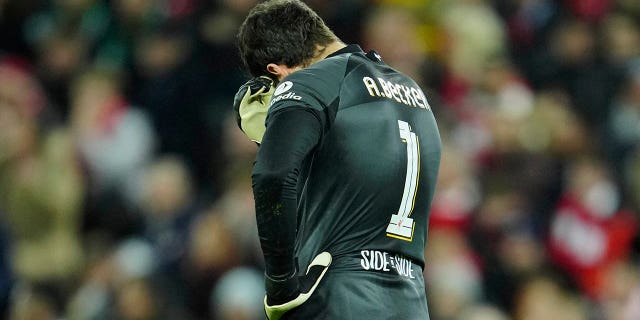 Like Courtois's mishap, Liverpool was looking to pass it back to Becker to boot it downfield and clear any danger. 
Instead, Becker was "too casual," as one commentator said, and tried kicking it back to his teammate instead of a long pass down the pitch. Vini Jr. was still hustling toward the ball, and it hit him in just the right spot to find the net. 
Tie game. 
Becker was dumbfounded, but Real Madrid wasn't complaining. They were heading into the locker room with the match tied when it could've been much worse. 
NEYMAR STRETCHERED OFF FIELD IN TEARS AFTER SUFFERING ANKLE INJURY
They used that momentum in the second half to blow out Liverpool on their own pitch, scoring three goals, two of which came from French star Karim Benzema. Eder Militao scored the first of the second half just two minutes in thanks to a low cross from Luka Modric. 
It was a historic 5-2 victory for Real Madrid, as Liverpool had never conceded four goals in a European match at Anfield in team history, let alone five. 
But that's the Champions League: One blunder can be enough to end a team's chances at glory. But multiple mishaps created one of the wildest matches to date.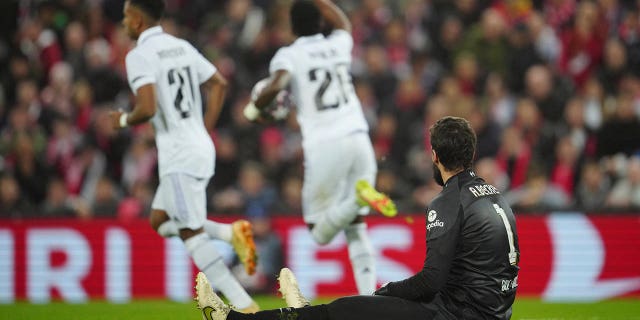 These two teams will face each other again on March 15 for the second leg, where Real Madrid owns the aggregate 5-2 advantage. 
Read the full article here