On Sunday, Novak Djokovic won his tenth Australian Open men's singles title, defeating Stefanos Tsitsipas. The victory marked Djokovic's 22nd Grand Slam win, placing him next to Rafael Nadal atop the all-time list.
In a post-match interview, an emotional Djokovic explained that his latest achievement signified his "biggest victory." Arguably more impressive than his play was Djokovic's perseverance in overcoming obstacles en route to the Australian Open final.
Last year, Djokovic, who has not received the COVID-19 vaccine, was deported from Australia and prevented from competing in the annual event. Months later, Djokovic was barred from participating in the U.S. Open due to his vaccination status.
NOVAK DJOKOVIC BREAKS SILENCE ON FATHER'S AUSTRALIAN OPEN ABSENCE FOLLOWING RUSSIAN FLAG CONTROVERSY
Fox News contributor Jason Chaffetz weighed in on Djokovic's journey on 'The Big Sunday Show.'
"The way governments treated one of the premier athletes in all of sports, I mean, this guy is the GOAT of tennis," Chaffetz said. "To deny him, to kick him out of a country and what we did in the United States to him, to not allow him to come in. "He shouldn't have had to go through it."
With Australia loosening its restrictions and providing a visa for Djokovic to compete, attention has shifted to what the United States will do ahead of the US Open's start in August. Earlier this month, the Transportation Security Administration announced an extension of the COVID-19 vaccine mandate for non-U.S. citizens to enter the country through April 10.
"They simply want to keep control. It's almost like they want to make an example out of Djokovic," co-host Katie Pavlich added.
Djokovic has been scrutinized by many in the tennis community and the larger sports world, but he has remained strong in his beliefs through it all. Co-host, Tom Shillue, expressed his admiration for Djokovic's choice to take a stand, even if it ultimately cost him in his career.
"I love Novak Djokovic because he's always been he's been so poised, and he's been so polite in the face of this," Shillue said. "He stood on principle. And I wish more athletes did the same thing."
After being deported from Australia last year, Djokovic lost to Nadal in the French Open quarterfinals. He later went on to win Wimbledon before withdrawing from the U.S. Open.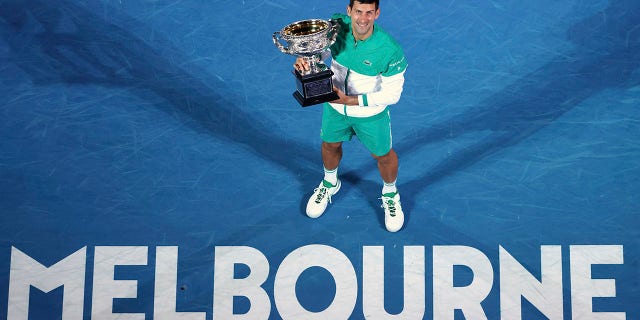 CLICK HERE TO DOWNLOAD THE FOX NEWS APP
Djokovic's latest victory provides yet another reminder of just how dominant he has been over the past decade. His 10 Australian Open men's single titles ranks No. 1 all time. Currently sitting as ATP's No. 5 men's singles player in the world, Djokovic will likely see that number bumped up after his performance Sunday.
"At this point, if you don't let him into the U.S. Open, you're rigging the system because you're not forcing all these other players to compete," Pavlich said.
Read the full article here